Uncategorized
Full Review JBL PartyBox On-The-Go Bluetooth Wireless Speaker With Mic
This is the JBL PartyBox On-The-Go. It's the newest addition to the JBLs PartyBox line of powered Bluetooth, DJ-type speakers, and this one's pretty cool. 
First of all, it's portable. It's got a six-hour battery life, it's got a padded shoulder strap, you can take your music anywhere you want to go. It's got a hundred watts of RMS power built-in, and that's powering a five-and-a-quarter inch woofer in a ported cabinet with plenty of basses, and two one-and-three-quarter inch tweeters, so that the mids and highs sound crystal clear as well.
In addition to the battery and all the power, the PartyBox On-The-Go has a couple of extra cool features. For example, it's got a wireless mic included. Now I'm going to go ahead and turn this thing on here, and I've got my phone queued up to play a song by my band Big.
Read More Article:- boAt Stone 1400 Bluetooth Speaker – Wireless Portable Bluetooth Mobile Speaker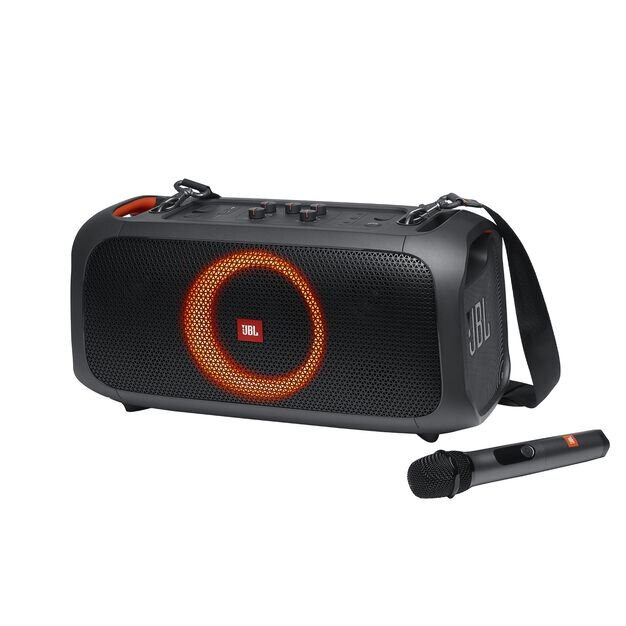 So there, the JBL speaker is matched up with my phone. You're going to see this Bluetooth light up here to see that it is synced up and ready to play music, right about now, and I'm gonna take the microphone out of its holder, I'm gonna turn it on, and now I'm ready to sing along with it.
Should I sing? Yeah, I think I will, I'm gonna sing along. "Just about my time to go head on back to reality…" So I want to demonstrate a couple of cool things here.
You can make some neat adjustments with the microphone, there are three adjustments here, we've got bass, treble, and echo so I can tune it for my voice, get just the right amount of bass and mid-range. I can also add echo, so if I want to sound like I'm in a cave or in a huge chamber, I can do that, or if I want it completely dry I can turn all the echo off, and that's all with the included wireless mic.
In addition to the included wireless mic, we've got a couple of other inputs here on the top of the speaker underneath some weatherproof caps. On this side here, we've got a guitar input with a separate gain adjustment.
Read More Article:- boAt Bluetooth Wireless Speakers In 2021 India – Honest Review And Buyer's Guide
Here we've got a hard-wired microphone input with its own gain adjustment, so in addition to the handheld wireless mic that's included, you can go with an additional wired mic, an additional guitar, all while playing music from either Bluetooth from your phone or from a USB memory stick right here on the back of the unit, which is perfect if you have a pre-setup playlist of music.
You can just plug that in and go to town. One cool thing, if you're doing that karaoke thing there, is actually like a nice slot right here on the top that is perfect for placing a tablet like an iPad. So maybe you put that on there, you watch some YouTube videos, there's plenty of karaoke videos all over YouTube, play the music Bluetooth through the speaker and sing along with the microphone.
It's a pretty cool thing, and it's super easy to do. So you may have noticed while the music was playing there was a light on around that big five- and-a-quarter-inch woofer on the front. That light show can be customized so that it moves and lights up with the beat of the music, or with whatever you're saying on the microphone, or you can set it to a more constant thing, or you can turn it off completely if you don't want to see the light.
Also, this PartyBox On-The-Go is IPX4-rated, so it is splash-proof. You can definitely take it with you to the beach, poolside, out and about without really worrying about it getting wet, it can handle some of the elements. And if one isn't enough, you can definitely get two of them and pair them, so that you have all of this functionality with a stereo pair of speakers.
I could think of so many cool ways to use this On-The-Go speaker. Maybe you're setting up a karaoke party, or if you're busking or street performing, you might have a guitar and a microphone you could play along with songs out there.
If you're setting up a comedy show, you could use this as the microphone for the comics as well as have music playing in between the breaks of the show. Take it to the beach, if you're teaching a class…there's just so many ways you can really put this thing to use.
Final Words
So this is the JBL PartyBox On-The-Go. Portable, powered, sounds great. Wireless mic, Bluetooth music, it's simple and easy to use, it's really pretty cool.
You can also put your questions right here in the comment section on this blog post, we do look at those and we will answer your questions right here, and as long as you're at it, so you'll know the next time we put out a cool new blog post like this, and thanks for reading.