When it comes to facials, it's not always easy to navigate when it comes to knowing how to pamper our pretty face. What products to use, and then, in what order and how should they be applied? Do not panic! I have prepared a beauty roadmap for you for an easy and effective facial skin care routine. Follow the guide!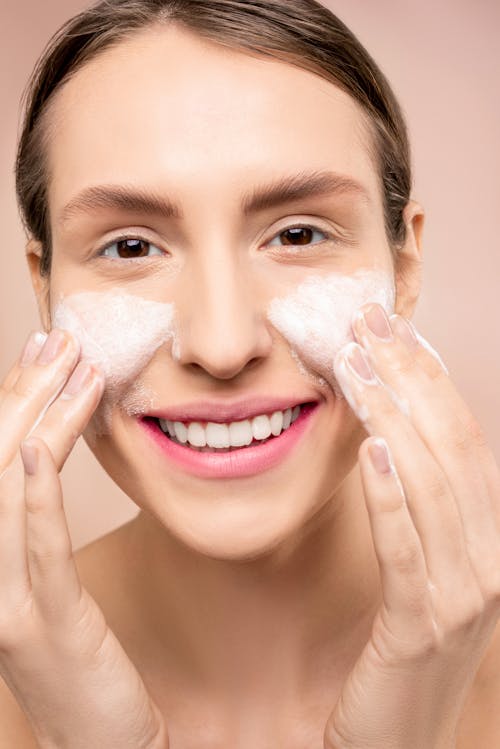 THREE-STEP CLEANING OPERATION!
Do you ever go to bed without removing your makeup? Do you think that moistening your face with a little water is enough to start the day? Think again! These bad practices rather promote the appearance of imperfections, can clog the pores, dull the complexion and even accelerate the aging of the skin! By adopting a good skincare routine , you will maintain the health and beauty of your complexion. Why do without it?
Step 1: Clean up
Use a cleanser appropriate for your age and skin type. A teenage girl with oily, blemish-prone skin will have different needs than a mature woman with thin, dry skin. Assess your skin's needs to choose the right cleanser.
A purifying cleanser is beneficial for most skin types, at least a few times a week, maybe even every day. It removes the impurities encrusted in the skin to make it clean and refined.
Pro tip : Make-up remover wipes are handy, but don't cleanse deeply. Make sure to cleanse properly after removing excess makeup with the wipe.
I like the IDC Pearl Gel cleanser. It removes excess sebum, deeply cleanses the pores, and removes dead cells. Your skin will be revitalized.
Step 2: Tone the skin
Those who do not use tonic lotion usually do not understand the important role of this product. Thanks to this, the cleaning is complete. The lotion removes all traces of cleanser and impurity while rebalancing the skin's pH, which is 5.5. The pH of the water can reach 9.5 depending on where you live and the hardness of the water. After cleaning, the pH of the skin is therefore no longer balanced; your skin has to work hard to correct it. But the tonic lotion restores the pH as soon as you apply it, which soothes the skin.
Pro tip : Apply tonic lotion all over your face by dabbing. Never rub your skin when applying the toner, as this may irritate it.
I like: The gentle tonic lotion with rose petals from Nuxe. This fresh and alcohol-free lotion is enriched with floral water extracts of rose petals. It tones the skin to perfection, instantly revealing the radiance of the complexion.
Step 3: Hydrate
Morning and night, you need to restore moisture to your skin to keep it fresh, soft and comfortable. There are all kinds of moisturizers, from light lotions to rich balms. However, most skin types respond well to a formula that locks in moisture.
Pro tip: Daily hydration doesn't stop at the chin! When you apply your day cream, think of going down in the neck, and going to the neckline. Indeed, the skin in this place is sensitive like that of the face and it is often visible, therefore subject to the same attacks.
I like: IDC Hydra-Sealer Cream. This treatment seals in hydration. It protects the skin from dehydration and preserves its softness and suppleness.
CLEANING 101
To properly cleanse your face twice a day, daily:
Wash your hands well.
Pour some cleanser into the palm, then rub your hands gently together to warm the cleanser and produce a smooth lather.
Use gentle circular movements with your fingers to massage and cleanse your face. This massage will activate blood circulation, which will purify your complexion and improve its radiance.
Rinse your face thoroughly with clean, lukewarm water.
Pat the skin dry with a clean, soft towel.
Apply toning lotion using a clean cotton swab. Do not rinse. Your skin is now ready to enjoy the benefits of your day or night moisturizer!